With a change of venue, and somewhat haphazard organisation by the Lions, my hopes were not high for this year's event. But surprisingly, we ended up with a primo site (under some trees) and the day ran reasonably smoothly.
Karen and I again arrived early and managed to get in before the queue. Early on,
the entry process for display cars seemed to be much smoother than in the past. Some of those that arrived later however found that older cars were held up whilst a stream of modern Commodores were allowed what seemed like priority access!!
Despite some fears by the Lions that there was not going to be enough space for all display cars, there was room left over;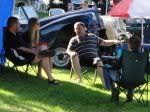 and with a little better utilisation of the inner field of the speedway track, many more vehicles could have been on display.
The crowd this year seemed a bit smaller. I guess being held after Concours rather than before may have had some impact, but it's also quite likely that the $12 entry price put many off. Perhaps the organisers could be a little less greedy next year, and we may see a larger crowd again.