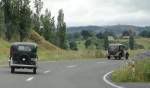 On what classes as an Auckland summers day, several of us gathered at the ClubRooms ready for an outing to a local beach (the weather is Karen's fault, she decided we needed new outdoor furniture). Taking into consideration the drizzle, it was decided that Awhitu may not be the best choice and that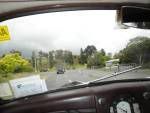 Kawakawa Bay would be a far closer and more appropriate alternative. We set off, with Brian setting a healthy pace in his 7Y.
45 minutes later we were at Kawakawa Bay and standing outside the local store. Yes there was still water falling out of the sky. A quick discussion and we set off for Kaiaua, where we are certain of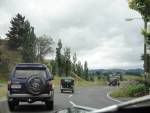 shelter in the local pub for lunch. Again, Brian sets a cracking pace. With Karen and Jo following along in a modern, Chris and I separately have some fun skittering the back end of our cars around some of the corners in the wet. During lunch Bev comments that Brian drives too fast, and I said that I was surprised he was able to corner as fast as he was, to which he replies that he was just keeping the car quite finely
balanced between too much and too little.
Anyway, we all arrived safely at Kaiaua after passing a group of motorcyclists, one of whom had failed to negotiate a bend and ended up down a bank - he seemed OK. Chris also antagonised some of the locals by apparently driving too fast past a funeral! But as I was saying we arrived safely and ordered lunch at the local pub, most of us opting for the fish and chips. After a bit of a yarn, we then proceeded back home via the Hunua Gorge.
Thanks must go to Martin (Y) for organising. A most enjoyable day was had by Brian and Bev (7Y), Chris (Y) and Jo (modern), Ant and Karen (Anglia), and Bud (modern).