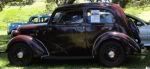 Every year this is always a cracker day. Warm, sunny, and red Ant weather (thank goodness for my hat and 85+ sunscreen).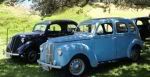 Due to several other events being held on the same day — the Cambridge swapmeet and car show, and the Auckland Santa Parade — the turnout of clubs was a little lower than in previous years, but that didn't mean we didn't have a good time.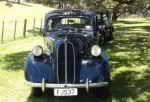 Six events had all the participants driving in circles, or with a bucket on their head, or hooking and carrying bottles or crates. All this and more than enough time to sit in the shade (or sun) and munch on food and drink.
At the end of the day the Chev Club were declared winners, followed by the Morris Register and then us.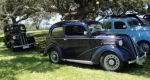 Attending today were Brian and Bev (Ford 7Y), Andrew and Pam (Ford Anglia) Neil and Sue (Ford Prefect), Ant and Karen (Ford Anglia) Stephen (Ford 8 Surf) and Martin (Ford 10 Commodore).