It was a fine but cool day as we all gathered at the clubrooms prior to heading off to Ardmore. John had asked one of his friends to bring his Buckler out for a bit of a run, and we all gathered around and examined and chatted about it (no photos, sorry).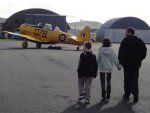 After a little while, we all set off to follow John on a roundabout journey through some of the countryside of South Auckland to the cafe at Ardmore Aerodrome. We had a drink and bite to eat whilst watching the planes and listening to Paul's latest Trade Me exploits.
Later, we proceeded down to the Warbirds hangar and were able to wander amongst and examine the planes on display.