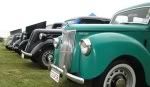 Another early(ish) start and again Karen & I were surprisingly one of the first to arrive, although not beating Dennis who was waiting just down the road from the entry gate.
We entered, parked, and when Paul arrived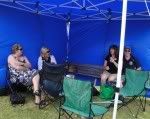 started setting up our new pop-up gazebo, along with walls. And not before time; just as we were considering attaching a wall, the rain started and two walls were quickly zipped into place. Fantastic!! Despite the rain getting heavier for about the next 10 minutes we were kept well dry. The rain did dissipate and the clouds eventually cleared so that the afternoon was quite sunny, but there was quite a wind all day.
We spoke to several past members, potential members and various people who grabbed photos, or shared stories of times past. In all, a good day.